Welcome! High in the Rocky Mountains of Central Colorado, a new regional aesthetic blending classicism with surreality in a western environment is coming to life. Step into the world of humor, wonder, and wilderness coming from the brushes and mind of
Stuart Codington Andrews
Exhibition Plans for 2013-14!
"Dreams of fLight" Opens Oct 24!!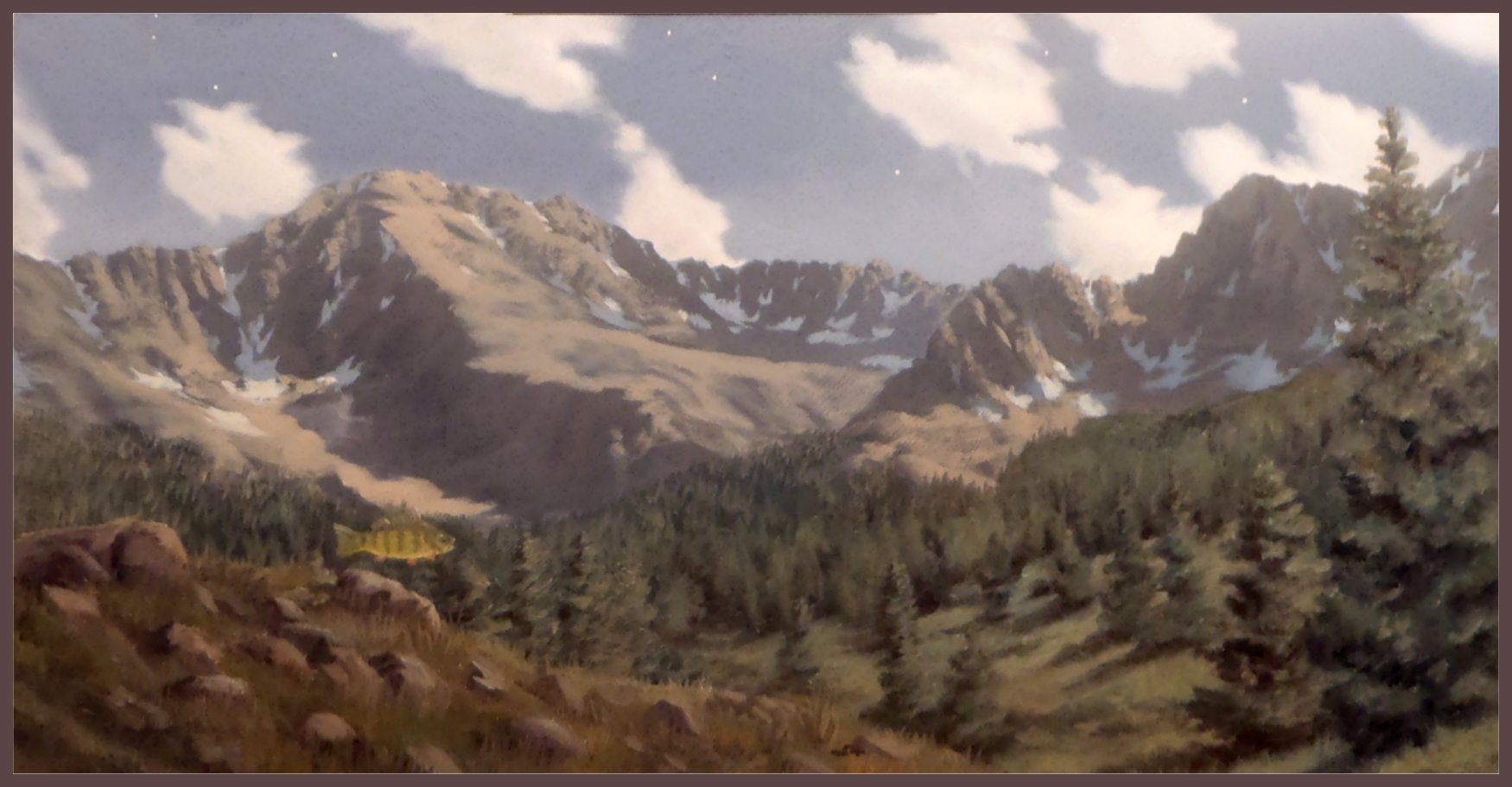 "A Lofty Perch"
(Trout Fishing series 12 x 24" oil on panel)
The new installment of the "Four Seasons" Suite is now on display in Denver, Fall 2013! The latest works of the Chess, Trout Fishing, M&M, and Don Quixote/Icarus themes will be the centerpiece of this exhibit. For more info, check the View News page. For a review of images from the recent shows, go to Show Views.
Take a few minutes to browse through the virtual View. We have beautiful original oils available in the NewViews page. A preview of upcoming shows and recaps of current & past exhibits can be found on the ShowViews page. The ClassicViews gallery has a look back at the most relevant work from the past 39 years. In the PrintViews gallery, you'll find all of the available reproductions at great prices. Take a closer look at our newest prints in the Special Offer mentioned above, or if you have an idea of your own, the Commission Information page can help show you how we can make your vision a reality. Learn more about the View in '12, the Art, and upcoming events by visiting the ViewNews and Artist's Profile pages. We are celebrating our 20th year in existence during 2013, so if your travels find you in Buena Vista, please stop by the galleries & merchants listed to see the real deal.
"I was riding a fine line between beauty and ugliness! Coming from painterliness and tonality, I was exhilarated to find my work aggressive and absurd." - May Stevens
This site launched 05-17-99 Last update 10-17-13 All images © the View.
Visits since 05-17-99